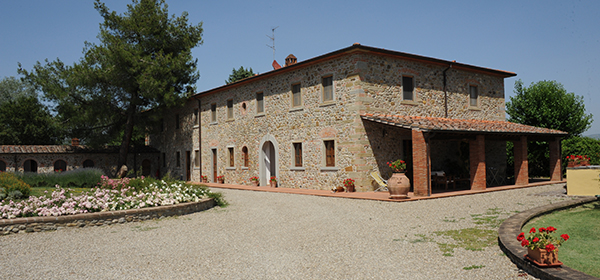 "THE BILODOLE" RESIDENCE

A big farmhouse built during eighteenth century and remained active and inhabited until the eighties of twentieth century.
A well-developed intervention of restoration brought again to life the beautiful facility of five hundred square metres, while using correctly the building materials, which are typical of the area, such as stone, wood and terracotta.
Zero impact vacations
Your stay in "The Bilodole" will have zero impact on the environment. In fact, the last generation Photovoltaic plant, integrated to solar thermal systems supplies the building.
Swimming pool
The swimming pool (16×8 m) is available only for guests. It is located in the park, at a particularly inspiring point next to the farming house. The vast surrounding area allows a relaxing and comfortable stay. It is supplied with dressing room and toilets.
The jacuzzi big round tank (2,40 metre) is particularly beloved by guests, with eight nozzles and four geyser jets.
The external shower is warmed by solar energy, while the tank water undergoes a continuous recirculation, which assures depuration and constant biologic control.
Parking
Parking is at the entrance of the Park. It is not guarded, but placed inside the farmhouse fence, whose gate is always close.
Common Area
At ground floor, the big salon is available for all guests. It is equipped with big tables and a relaxing sitting room with digital TV. The big industrial kitchen, at guests' disposal, serves the salon.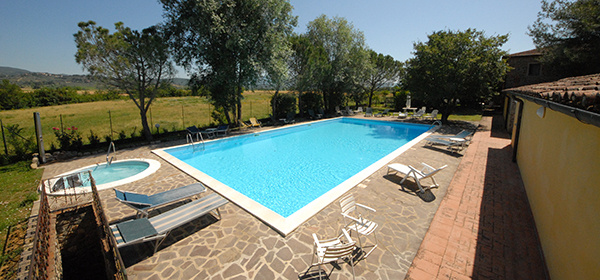 Check-in and check-out schedule
– Check-in: 15,30
– Check-out: 10,00
Payment
A deposit of 30% as confirmation of booking, paid by bank transfer. The balance at check out.
Welcom Kit
On their arrival, guests will receive a gift bag with a bottle of wine and fruit.
Bed linen Kit
Linen is supplied for the whole period of stay and includes:
– sheets and pillow cases
– blankets and under blankets (duvet in winter)
Kit for a change, on specific request, Euro 5,00.
Bathroom linen kit
Linen is supplied for the whole period of stay and includes:
– Towels
– Guests towels
– Bath towel
Kit for a change, on specific request, Euro 5,00.
Breakfast
Breakfast is by reservation and is served from 8 to 10 in the Hall Pratomagno: coffee, teas, milk, orange juice, water, homemade cake, biscuits, jam. Cost per person Euro 7,00
Cleaning
End period cleaning is included in the price. In any case, guests are invited to leave apartments in order, including kitchen space and furnishings.
Pets
Pets are allowed. A deposit of 100.00 € is requested for any damage caused. The deposit must be paid at the time of payment of the advance or on arrival at the residence and will be returned at check out.
Bus
Bus line n° 21 to the city center of Arezzo. Ticket € 1,30. Check bus timetables on the website TIEMME Linea 21.